An AC adapter, AC/DC adapter, or AC/DC converter is a type of external power supply, often enclosed in a case similar to an AC plug. Other commonnames include plug pack, plug-in adapter, adapter block, domestic mains adapter, line power adapter, wall wart, power brick, and power adapter. Adapters for battery-powered equipment may be described as chargers or rechargers (see also battery charger). AC adapters are used with electrical devices that require power but do not contain internal components to derive the required voltage and power from mains power. The internal circuitry of an external power supply is very similar to the design that would be used for a built-in or internal supply.
External power supplies are used both with equipment with no other source of power and with battery-powered equipment, where the supply, when plugged in, can sometimes charge the battery in addition to powering the equipment.
Use of an external power supply allows portability of equipment powered either by mains or battery without the added bulk of internal power components, and makes it unnecessary to produce equipment for use only with a specified power source; the same device can be powered from 120 VAC or 230 VAC mains, vehicle or aircraft battery by using a different adapter.
Advantages
Eternal AC adapters are widely used to power small or portable electronic devices. The advantages include:
Safety – External power adapters can free product designers from worrying about some safety issues. Much of this style of equipment uses only voltages low enough not to be a safety hazard internally, although the power supply must out of necessity use dangerous mains voltage. If an external power supply is used (usually via a power connector, often of coaxial type), the equipment need not be designed with concern for hazardous voltages inside the enclosure. This is particularly relevant for equipment with lightweight cases which may break and expose internal electrical parts.
Heat reduction – Heat reduces reliability and longevity of electronic components, and can cause sensitive circuits to become inaccurate or malfunction. A separate power supply removes a source of heat from the apparatus.
Electrical noise reduction – Because radiated electrical noise falls off with the square of the distance, it is to the manufacturer's advantage to convert potentially noisy AC line power or automotive power to "clean", filtered DC in an external adapter, at a safe distance from noise-sensitive circuitry.
Weight and size reduction – Removing power components and the mains connection plug from equipment powered by rechargeable batteries reduces the weight and size which must be carried.
Ease of replacement – Power supplies are more prone to failure than other circuitry due to their exposure to power spikes and their internal generation of waste heat. External power supplies can be replaced quickly by a user without the need to have the powered device repaired.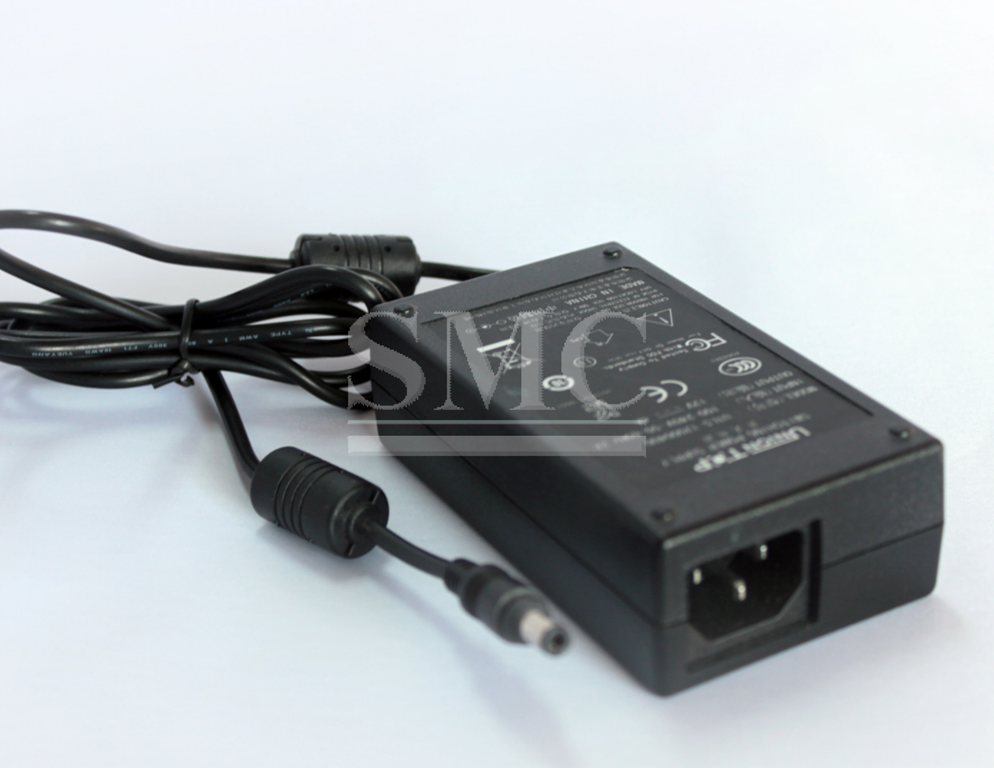 AC adapter supporting four different AC plug systems
Configuration versatility – Externally powered electronic products can be used with different power sources as needed (e.g. 120VAC, 240VAC, 12VDC, or external battery pack), for convenient use in the field, or when traveling.
Simplified product inventory, distribution, and certification – An electronic product that is sold and used internationally must be powered from a wide range of power sources, and must meet product safety regulations in many jurisdictions, usually requiring expensive certification by national or regional safety agencies such as Underwriters Laboratories or Technischer Überwachungsverein. A single version of a device may be used in many markets, with the different power requirements met by different external power supplies, so that only one version of the device need be manufactured, stocked, and tested. If the design of the device is modified over time (a frequent occurrence), the power supply design itself need not be retested (and vice versa).
AC adapters are often reused on other appliances, but there are five parameters which all must suit the appliance:
Voltage
Current capacity
Polarity (not relevant with AC)
Voltage regulation (or stabilization)
Connector type
"Universal" adapters are available on which the user can adjust these parameters, except for voltage regulation (which is a fixed characteristic of a given power supply design).