Not so long ago, erecting a wind turbine farm in deep water would have seemed a futuristic idea, but not anymore. Pilot floating wind turbine projects are showing positive results and they may become a cost and energy effective solution in areas lacking the appropriate geological conditions for the construction of conventional offshore wind farms.
Floating turbines can be placed in areas with the best possible wind conditions rather than primarily basing the location selection on the depth of the waters (max. 50m for conventional offshore wind turbines) or the quality of the seabed. Japan, the US and some parts of Europe, for example, could benefit from the development of floating offshore wind turbines due to their lack of shallow waters.
It was in 2009 that the first full-scale floating pilot platform Hywind, featuring a. 2.3 megawatt Siemens turbine, was deployed 10 km off the south-west coast of Norway and has since produced 32.5GWh of energy. Since then, several other successful full scale pilot projects have been given the green light in different regions of the world.
On 3 November 2015, the Scottish Government gave approval to the Norwegian energy company Statoil, who is behind the Hywind project, to start a second project off Peterhead in Aberdeenshire, Scotland. It is set to become the largest floating wind turbine farm in the world. The 30 MW pilot project will consist of five 6 MW floating Siemens turbines operating in waters exceeding 100m of depth at Buchan Deep, 25 km offshore Peterhead. The wind farm is expected to provide electricity to around 20,000 households. Production is planned for 2017. The turbines will be attached to the seabed by a three-point mooring spread and anchoring system. An export cable will transport electricity from the pilot park to shore at Peterhead.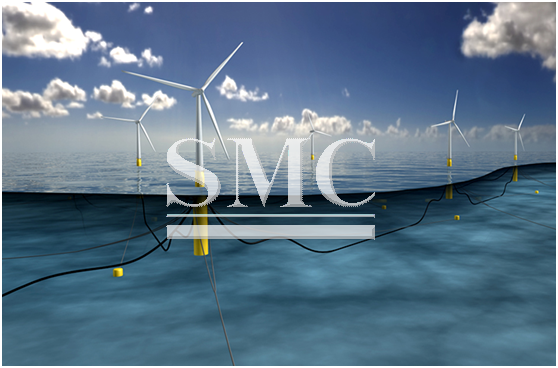 Five km off the coast of Aguçadoura, Portugal, another pilot project, known as the Wind Float Atlantic project, is being tested under plans set out in November 2015. The project is planned to be operational in 2018 and will consist of 3 or 4 wind turbines on floating foundations, accounting for a total capacity of 25 MW. The project is led by a consortium of companies including French gas and power group Engie, Portugal's EDP Renewables (EDPR), Japan's Mitsubishi Corp and Chiyoda Corp, along with Spanish energy group Repsol. According to the consortium, the aim of the project is to demonstrate the economic potential and reliability of this technology, advancing it further in the path towards commercialisation. During phase one, a semi-submersible wind generator carrying a 2 MW Vestas turbine had produced more than 16 GWh over almost four years of operation, during which time it withstood extreme weather conditions.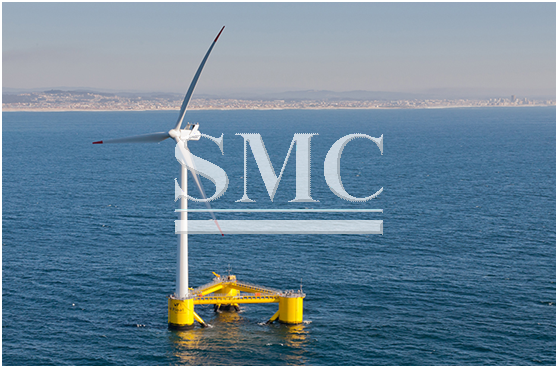 Off the coast of Fukushima in Japan another project launched in 2013 is also seeing the huge potential of floating wind farms. The demonstration project (Fukushima FORWARD) is led by a consortium of universities and heavy industry companies, including Nippon Steel & Sumitomo Metal Corporation, and is funded by the Ministry of Economy, Trade and Industry. In this project, three floating wind turbines and one floating power sub-station will be installed off the coast of Fukushima. The first phase of the project was completed in November 2013 and consisted of one 2MW floating wind turbine. Phase II began in June 2015 and should see two of the world's largest 7-megawatt wind turbines being installed by the end of the year.
The technologies enabling the wind turbines to stay afloat typically consist either of a single central floating cylindrical spar buoy or a triangular platform moored by catenary cables. So far, both technologies have shown promising results even in severe weather conditions.
The commercial development of this new technology could help further boost the use of renewables in lieu of fossil fuel energy.
Steel plays a vital role in wind power generation. Steel represents on average 80% of all materials used to construct a wind turbine. The main advantage of generating energy from wind turbines is that the technology emits no C02.